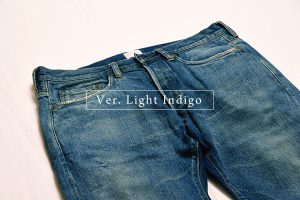 A Light Indigo version is completed for our products KISOBA and TEMPURA.
We asked the most skilled craftsmen team in Okayama. It is not an exaggeration to say that the realism of this used processing, which they added one by one, is art.
Because these products are time-consuming and labor-intensive, they will be produced little by little.
KISOBAとTEMPURAに、Light Indigo仕様ができました。
岡山で最高の技術を誇る職人チームに制作を依頼し、彼らが一本ずつ手を加えたユーズド加工のリアルさは芸術と言っても過言ではない水準です。
これらの製品は時間と手間がかかるため、少量ずつの生産となります。