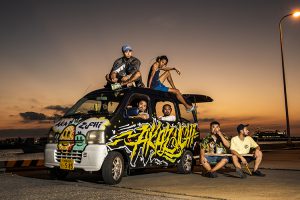 Hip hop culture, arguably the greatest development of the 20th century, was born in the South Bronx neighborhood of New York City in 1973 and quickly spread throughout the world. Today, hip hop has taken root not just in America but in streets all over the world, weaving together unique stories from every region on Earth. Not to invite controversy, but today there is no longer any one place that can be called the home of hip hop. The local scenes of every country and region are linked together organically, giving rise to a massive, global hip hop culture.
In the Japanese hip hop scene, the most important hip hop crew making the biggest impact is AKAZUCHI, a group primarily active in Naha, Okinawa.
In addition to the musical pursuits of the group, which consists of rappers, DJs, and singers, not only does AKAZUCHI also operate a store and recording studio, in recent years they have also been hosting the largest outdoor musical festival in Okinawa. This unique, multifaceted stance has galvanized the hip hop scene in Okinawa, located on the southernmost tip of Japan.
The roots of AKAZUCHI date back to their high school days. The influence of soccer, which was not only how the crew met but has also been hugely influential to their organizational approach and mobility, cannot be overstated. Okinawa is a region rooted in folk songs and dances from time immemorial. Music runs through the very DNA of some Okinawans. Additionally, due to the U.S. military bases located on Okinawa, the influence of American culture and music is felt much more quickly and strongly than on the Japanese mainland. These various historical elements mix together on Okinawa, and as a result it is always overflowing with music.
In that environment, it was only natural that those "bad boys" who met through soccer would go out on the town every night and eventually start hosting parties. It was their management of LOVEBALL, now a legendary club in Okinawa, that would lead to their formation as a crew.
LOVEBALL started in 2011 as a place for them to hold their parties, dedicated to the ideas of "good sound, good space, and good vibes." Even from a global perspective, it is extremely rare for a hip hop crew to have their own club. Making full use of this advantage, they built the stage with their own hands every night, deepened and maintained relationships with musicians of every genre, and eventually gained the trust of the Okinawan club scene. From this castle of their own making, AKAZUCHI performed, managed and hosted events, and ran a club; and in doing so grew from "bad boys" to a hip hop crew that represented all of Okinawa.
Although AKAZUCHI is a "real" hip hop crew, it has an open atmosphere that does not feel limited to hip hop. This may well be due to their management of LOVEBALL, a place that functions as an intersection for all types of musical genres and people.
These three factors are essential to understanding their present, as well as their future.
◾️NAMI NO UE MUSIC & BARBER


◾️NAMI NO UE Festival


20世紀最大の発明"ヒップホップ"というカルチャーは、1973年ニューヨークのサウスブロンクスで生まれ、瞬く間に世界に広がった。今や、ヒップホップは世界中のストリートに根付き、アメリカはもちろん、世界のあらゆる土地で独自のストーリーを紡いでいる。誤解を恐れずにいうならば、今やヒップホップの中心など世界のどこにも存在しない。各地方、各土地のシーンが有機的に結びつき、ヒップホップという巨大なカルチャーのうねりを生み出しているのだ。
日本のヒップホップシーンにおいて、現在大きなうねりを生み出している最重要クルーがAKAZUCHIだ。
彼らは沖縄県那覇市を中心に活動するヒップホップ集団である。
ラッパー、DJ、シンガーなどを有する彼らは、個々の音楽活動はもちろん、ショップ、レコーディングスタジオの運営、そして近年では沖縄最大規模を誇る野外音楽フェスの主催など、沖縄という日本の最南端エリアのシーンを、独自のスタンスで盛り上げている。
AKAZUCHIのルーツは、彼らの高校時代にまで遡る。サッカーを通じて出会ったというという彼らの組織観や圧倒的な機動力の根底には、サッカーというチームスポーツが大きく影響している。
沖縄は、古くから民謡や踊りが根づいている土地だ。沖縄の人たちの中にはDNAレベルで音楽が流れている。また、沖縄には米軍基地もあることから、本土に比べてアメリカのカルチャーや音楽が入ってくるのがとても早く、しかも身近だ。こうしたあらゆる歴史的要素が混ざり合い、沖縄には常に音楽溢れている。
そんな環境の中で、サッカーを通じて出会った"ワルガキ"たちが、夜ごと街へ繰り出し、やがてパーティーを主催するようになるのは、ごく自然な流れだったのだろう。そんな彼らが本格的にクルーとして活動するきっかけとなったのが、今や沖縄では伝説のクラブとなっているLOVEBALLの運営だ。
LOVEBALLは2011年に「いい音、いい空間、いい感じ」をコンセプトに、自分たちが主催するパーティーをやる場所としてスタートした。世界的に見ても、自分たちの"箱"(クラブ)を持っているクルーというのは非常に珍しいのではないだろうか。この強みを最大限に生かし、彼らは毎夜自分たちの手でステージを作り上げ、あらゆるジャンルのミュージシャンたちと交流を深め、沖縄のクラブシーンでの信頼を勝ち得ていった。この自分たちの城で、AKAZUCHIは演者として、イベンターとして、クラブ、イベントの運営者として、"ワルガキ"から沖縄を代表する"クルー"へと成長していった。
AKAZUCHIにはリアルなヒップホップクルーである一方で、ヒップホップに限らない開かれた空気感がある。それは、あらゆるジャンルの音楽や人の交差点であるLOVEBALLという「場」を運営してきたということが背景にあるからかもしれない。
そんな彼らの現在、そして未来を知るのにふさわしい3つのファクターを紹介する。
◾️RITTO interview
◾️NAMI NO UE MUSIC & BARBER
◾️NAMI NO UE FESTIVAL