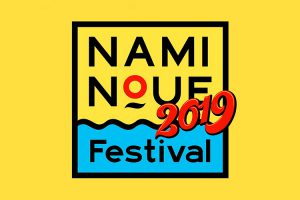 In 2018, AKAZUCHI Crew lowers the curtain on Club "LOVEBALL," which was their own castle. The attendance figures that year swept away the largest numbers from previous years. For the club, the decision was made during the height of its popularity.
And then, not long after the curtain fell on LOVEBALL, it was announced that Okinawa Prefecture's biggest outdoor music festival, the "Naminoue Festival," would be held. From "place-making" at a club, which the Crew had been doing up until then, the Crew chose a festival in order to attempt a bigger scale of "place-making."
The Crew's hometown of Naha city has only one beach, and that beach has the Naminoue Umisora Park. Here, front line musicians in every genre from within and outside of the prefecture will gather at the festival, which will have hip hop, of course, but also genres from reggae, rock, and pop to folk songs. Certainly, you can say that this festival inherited and evolves from LOVEBALL-ism. Also, not only will there be live music, there will also be MC battles, dance battles, and BMX contests. And then, booths will also be set up for things like food and apparels. The "town," which will gather up not just its music, but everything that is real and cool in the streets of Okinawa, will appear at the beach for just two days. The festival will be a spectacle that absolutely cannot be seen anywhere else.
The Crew received a huge response and reaction at last year's Naminoue Festival, which had been a big challenge for them. Also, the decision has been made to hold the festival again this year.
The brats, who met each other through soccer, eventually grew into the Crew that represents "Okinawa's hip hop scene." And now, the Crew is about to develop into a presence that will invigorate "Okinawa itself." You will see just a little bit of their story overlapping this year's Naminoue Festival, which will surely become a special experience for you.
2018年、AKAZUCHIクルーは自分たちの城であったクラブ"LOVEBALL"に幕を降ろす。年間の動員数も過去最大を叩き出し、クラブとしては人気絶頂のうちに下した決断だった。
そして、LOVEBALLの閉幕後、間もなく発表されたのが沖縄最大規模となる野外音楽フェス"波の上フェスティバル"の開催だった。彼らはこれまでやってきたクラブという「場」づくりから、もっと大きなスケールでの「場」づくりに挑戦するフェイズを選択したのだ。
彼らのホームタウン那覇市で唯一のビーチにある波の上うみそら公園。ここにヒップホップは勿論、レゲエ、ロック、ポップスから民謡まで、県内外からあらゆるジャンルの第一線のミュージシャンたちが集うこのフェスは、確実にLOVEBALLのイズムを受け継ぎ進化していると言える。また、音楽ライブだけでなく、MCバトル、ダンスバトル、BMXのコンテスト、そしてフードやアパレルなどの出店ブースなども設置され、音楽に限らず沖縄のストリートにあるリアルでクールなものを全て集めた"街"が2日間だけビーチに出現する。他では絶対に見られない光景だ。
クルーとして大きな挑戦だった昨年の波の上フェスティバルは大きな反響と手応えを得ることとなり、また今年も開催されることが決まった。
サッカーを通じて出会ったワルガキたちは、やがて"沖縄のヒップホップシーン"を代表するクルーにまで成長し、そして今では"沖縄そのもの"を盛り上げる存在にまでなろうとしている。そんな彼らのストーリーを少しだけ重ねて観る今年の波の上フェスティバルは、あなたにとってきっと特別な体験になるだろう。