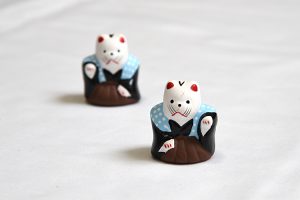 The Sumiyoshi Taisha shrine, which has over 1800 years of history attached, is known fondly as 'Sumiyoshi-san' by the people of Osaka.
Behind the beautiful linear design of the main temple, 1000 year old Camphor trees are enshrined. The spirit of business success 'Hatsutatsu-san' at the Nankunsha shrine.
Hatsutatsu means the first day of the dragon of the month and originates in the old Japanese calendar. It is believed that if you visit the shrine on that day then your business will flourish.
You receive a beckoning cat as evidence of visiting the shrine which on odd months will be with its left arm raised to beckon people, and in even months, its right arm raised to beckon money.
This small cat of just 3.5 cm in height might just give you the protection of the gods.
1800年の歴史を持つ住吉大社は、大阪の人々に「住吉さん」の愛称で親しまれています。
直線的な造りが美しい本殿の裏には、樹齢1000年の楠が祀られています。商売繁盛の神様「初辰(はつたつ)さん」こと南楠社(なんくんしゃ)です。
初辰とは、毎月最初の辰の日のことで、日本の古い暦に由来します。その日に参拝すると商売が繁盛すると信仰されています。
奇数月は人を呼ぶ左手を、偶数月にはお金を呼ぶ右手を挙げた招き猫が、お参りの証として授けられます。
座高3.5cmの小さな猫が、あなたに神様のご加護を運んでくるかもしれません。